The History of Alfa Romeo
 (by Elvira Ruocco)

 Article 9
---
Matta da "slegare"  *
The idea of a modern, strong, low-cost jeep which could face the requirements in civil and military fields and that was an alternative to the Fiat Campagnola, came from Orazio Satta Puliga at ther end of November 1950. Its implementation was a real quickness record because it was designed in just three months and the proper assembly happened in 20 days only. From the first general lines, drafted by Mario Colucci on January 20, 1951, to the implementation of the first prototype less than nine months went by: a record owed to Giuseppe Busso and his team.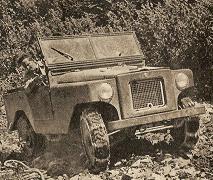 What it must be highlighted of this car, is the introduction of cutting-edge concepts starting from the engine with overhead valves which ran at 4400 rpm, with light alloy head, emispheric combustion chamber. All features of a very modern engine, of a low-consumption and high-power engine with the smallest overall dimensions and as lowest weight as possible.

The front suspension is independent-wheel with torsion bars, hydraulic shock absorbers, the rear one with leaf springs and hydraulic shock absorbers. The gearbox has four speeds, with the third and fourth synchromesh, with gear reduction. The transmission can actuate, by choice, the rear wheels only or all four. For its strength and versatility endowments, it was also employed by a Police task force like the "Celere" (Translator's Note: i.e. the Italian Flying Squad), and by Fire Brigade.
The first production car, of which 2,059 specimens in all were made, saw the light of day at the beginning of March 1952 in the Pomigliano factory in cooperation with the Aerfer company (Pomigliano workshops for aeronautic and railway constructions) and the mechanical factories at Pozzuoli. It was presented for the first time to the public on September 16, 1952 on the occasion of the Italy Gran Prix and the World Champion Nino Farina made a demonstration lap on it.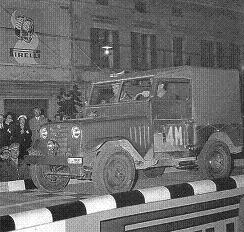 The Matta had the opportunity to measure itself also in a sports race carrying off a remarkable success which filled with pride Busso and his men. It happened in 1952 at the Mille Miglia, in the military vehicles category, unique case in the history of the famous competition in which two Alfa AR 51 were entered. In the morning of March 4, the Matta of Captain Costa and Lieutenant Verga ranked first beating the Campagnola with a 42-minutes lead. The other one, driven by Lieutenenat Beltramini, was gone off the road in the neighbourhood of Ancona. In order to celebrate, Alfa organized a gala dinner to which the whole company top management and the crews took part. The President, Pasquale Gallo, underlined the dedication and passion of his collaborators who had demonstrated that Alfa Romeo was able to brilliantly show off also in such a kind of production.

In the month of March, two Alfa Matta were still stars of the expedition carried out by Leonardo Bonzi in South America. An adventurous route from the Atlantic to the Pacific Ocean via the Mato Grosso and Indonesia, of which it is witness a motion picture entitled Green Magic.

Despite the best quality of this vehicle, the production did not take off, probably because of the cost (1,950,000 liras against 1,600,000 of Fiat AR 51). The only Army job order was that of August 1951, then the Fiat's Campagnola precisely prevailed.

Of the 2,264 cars produced (including the 154 cars for civil use, named AR 52), a little few than 200 survived, very appreciated by the enthusiasts who use them in competitions in which power and stability gifts are requested. <!- fine testo articolo -->

(*) Translator's Note: In Italian, "matta" means "mad woman" and "da slegare" literally means "to untie", whereas "matta da legare" (literally "mad woman to tie") is an idiom for raving lunatic.


Copyright Information and Credits
All the multimedia materials and the texts present in this page cannot be reproduced in any way without the explicit permit of authors and/or owners of the contents. In particular, this applies with reference to texts and pictures of Ms. Elvira Ruocco and of the Alfa Romeo Historic Archive who explicitly authorized the AlfaSport Club for publication.


Translation by Fabio Grandi
---
---